"Awesome 3 day trip on such a beautifully kept narrow boat. Brass shining! Deck paintwork cleaned and bright. Really comfortable on board accommodation. Great shower too! The greatest respect for the helmsman Philip whom gave me the opportunity to steer the boat whilst enthralling me with so much knowledge on boating,locks,rivers, canals, wildlife, even the link between Vincent van Gough and the lock designs!  Returned back with a refreshed soul and much enlightenment. Amazing! Recommended highly. Thank you."
"Fabulous day out yesterday. Thanks to Phil and Robin for making our day with family and friends so special. Really interesting and informative – we learned lots, from the 64 year olds down to the 9-month old (well, she probably won't recall). Highly recommended to anyone who wants a relaxing and fascinating day out. Thanks too for arranging such lovely weather!"
"I booked Angel II for my sister's hen do in May 2015. We met at the boat at 2pm and spent about 3 hours cruising up the Regents Canal from Angel to Camden then back to Kings Cross where we were dropped off to continue our evening. The journey was fun and educational – we learnt about a completely different side to London, a bit about boat-life and also how to work a lock. It was also great to connect with other people out on the canal or by the sides, there was a real feeling of celebration.
The trip on the Angel II was by far the highlight of our day. Kev/John/Nancy and the team were friendly and accommodating. They were brilliant sports and made the whole experience even more fun and memorable. I loved that we had the freedom to bring our own booze and food, and had the boat to ourselves with the expert support from Nancy, Kev and John.
We all had a go at operating the locks which was a lot harder than it looked… And absolutely hilarious. To give the whole experience extra feel-good factor, the guys working on the boat are all volunteers and any money they make goes back into funding disadvantaged young people to experience boat-life and get an insight into a side of London they would never otherwise have experienced."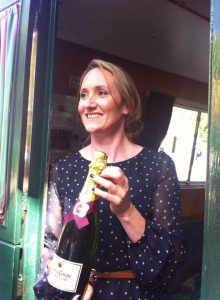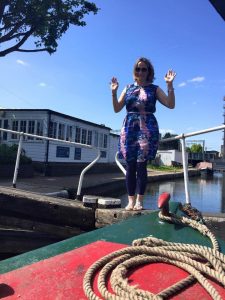 "There was no better way to spend my 30th birthday than with the Angel and it's welcoming and accommodating crew of Kev and Annemarie. There was more than enough room for our party of 10, as we spent a wonderful afternoon cruising along the canals of London, enjoying the sights, some wine, finger food, music and great company. We were in safe hands with our skipper Kev who manned the vessel, taught us the ways of the river and even got us involved in navigating through the locks. It was such a unique, enjoyable occasion and went down tremendously with the whole group.
As we toured London from the comfort of the Angel II we couldn't help but notice the looks of the pedestrians on the sides of the river, wishing they were having as good a time as we were having on the Angel II. Couldn't recommend the experience enough, we're already lining up our next trip!" Jake x