Get Out And get Learning!  (GOAL)
Our Schools' Project (GOAL Project) has been established in partnership with British Waterways and the London Canal Museum. It focuses on the National Curriculum Key Stages I to III.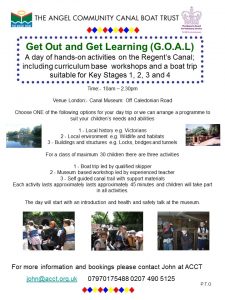 Classes divide their time between tasks and exercises based in the London Canal Museum, on the Regents' Canal towpath and on Angel II of Islington.
For print version of information sheet and teachers' comments click here.
For further resources see our Downloads page.
"Excellent for team building, very interesting facts" – Head Teacher on schools project
"I enjoyed the boat trip the best, I thought it was really relaxing. I liked the worksheets and spotting different birds. The walk and making the arches was really cool. I had a fantastic day. I wish I will come back soon" – Student age 10 on schools project
"I enjoyed the boat ride and opening and closing the locks. I always wanted to know how the water stayed in the lock.  The man said it's like a giant tea cup- there's clay at the bottom and sides"