The safe environment of our canal narrow boat Angel II of Islington provides a unique and very practical setting, as well as an enjoyable one, for groups learning life skills.  Groups of young people with special needs and groups transitioning to independent living have benefited from such trips.  Under the overall supervision of our experienced skipper, the young people will learn how to interact with one another and with other users of the waterways, how to stay safe and how to work as a team, both on and off the boat. With assistance they will plan a menu, go shopping for it and then prepare and enjoy together a meal.
Guidance will be given in healthy eating skills, food safety and preparation. The boat's galley provides a safe and compact space for food preparation. The young people will eat together and be guided in all the tasks necessary in preparing and clearing up after food.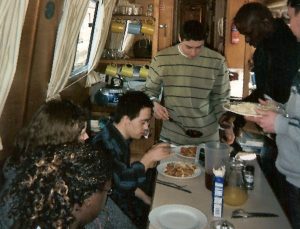 The security of the steel boat is ideal for a gentle outdoor experience while the canal-side scenery passes by and as the passengers gain confidence they can join in some of the boat activities, pushing lock gates or, under the supervision of the skipper, experience steering the boat.
We work with social services and other local organisations including special needs schools to make sure that we reach the young people most likely to benefit from their time on board Angel II.
We have recently obtained funding for a project which will enable up to 40 young people with special needs to benefit from a long weekend (Friday until Sunday) during which, in small groups, they will be taught some of the skills that will help them in the move towards independent living.
The Trust has over 40 years working with some of the most vulnerable young people in Islington and surrounding areas in projects based on Angel II and the inland waterways.