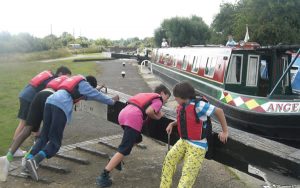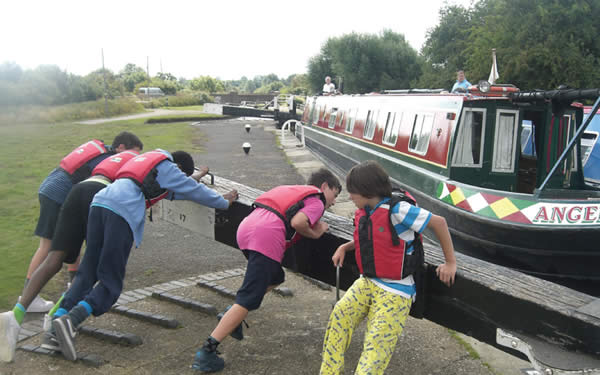 For about 2 months each summer 'Angel II of Islington' cruises further afield, well away from London and out into the countryside, offering 5 day residential trips for young people from Islington.
Typically we travel north from London via Uxbridge towards Berkhampstead and the Chilterns, Milton Keynes, Stoke Bruerne and Braunston in Northamptonshire, and onto Rugby, Coventry and Fazeley, and loads of countryside in between.  There is plenty of time to learn to steer the boat, and loads of locks to operate.  There are also lots of off-boat activities to enjoy, such as fishing, barbeques, ball games and night walks, and trips to go skating, swimming, to the cinema and even skiing!  Other activities and excursions can be organised to fit in round the trip.
We have a camcorder and laptop with editing suite software available for use by all residential groups, so that each group can make its own video record of their trip!  (A deposit is required for use of this equipment.)  See a video from a trip in July 2013 here.
On a residential trip we also offer our B.O.A.T.S. (Boat Operations, Activities and Transferable Skills) course with certificates for all those who successfully complete it. This brings together many specific boating skills and softer general skills acquired during a few days travelling and living on Angel.
We cannot recommend too strongly the importance of coming to see 'Angel' in good time before the trip and seeing the boat's facilities, and of having a detailed discussion with our skipper about your group's needs and requirements on and off the boat during the trip. 
Other activities and excursions suitable for your group can be organised to fit in round the trip.
For more information see our All You Need to Know about a Resdiential Trip documentation
I have run narrow boat trips before but this trip was one of my favourites. We took ten members (9 and 10 year olds), all fairly new to our club and all, except one, had never been on a narrow boat trip before. The group dynamics were fantastic and the children worked very well together as a team. They were all helpful with the jobs that have to be done on board, working the locks, shopping, keeping the boat clean and tidy as well as helping our skipper.

The trip was full of fun and action packed: we made and sailed the 'Jolly Roger', painted pictures, went on night walks, had a snowball fight! Played games ('Bus Stop' being the most popular), did glass painting, hung out and chatted with new friends and watched DVDs. To keep us going we were fed very well from a full cooked breakfast on both mornings, pancakes for afternoon tea, hot chocolate and a biscuit at bedtime to a midnight feast – actually held at midnight! With lots of 'proper food' in between.

The group really bonded well and learnt how to work together as a team and as individuals. Strong friendships were made that I know have continued since we came back – everyone had a great time and all want to know when we are going to do it again." – leader, residential trip